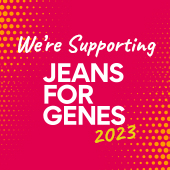 This week, we are supporting Jeans for Genes Day!

Jeans for Genes Day is the annual fundraising campaign for the genetic conditions community supporting people affected by a genetic condition. The monies raised on Jeans for Genes Day provide grants for day-to-day support, equipment, respite and events which bring together affected children and their families. There are between 4,000 and 6,000 diagnosed genetic conditions. It is estimated that one in 25 children is affected by a genetic condition and therefore 30,000 babies and children are newly diagnosed every year.

Today, pupils and staff have been invited to wear jeans to school instead of their usual trousers/skirt. In return, we are asking for a donation of £1 towards this cause. Normal uniform rules will apply for shirts/jumpers/ties/blazers, however pupils wearing jeans will be allowed to wear them with suitable footwear e.g. trainers, if they wish. Any pupils not wanting to wear jeans, should ensure they are dressed in full school uniform.

In addition to this, the science department will be running sessions throughout the week with key stage 3 classes to raise awareness, and support pupils' personal development.

Click on this text to contribute to this cause online via our Just Giving Page.