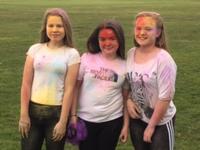 Thank-you to everyone who attended the PTA's Colour Dash fun run on Friday evening. After a rather wet week the weather was perfect, not too hot or cold, and the rain held off. We even saw some sunshine. Fun runners turned up in fancy attire and joined in the colourful race, choosing to either run a 3 or 6 kilometre course whilst being pelted with colourful powders.
After the dash we were pleased to see people tucking into hot food and refreshments. It really was great to see so many of you there!
The work that the PTA do is incredibly important and the funds they raise benefit the whole school. In recent years, the PTA has funded portable dance mirrors for the Drama Department, new football and rugby goalposts for the Sports Department, a contribution towards several high cost musical pieces of equipment for the Music Department. The PTA paid for the new school library, blinds in the English Department, re-vamping of the Dining Room area, new pans for the Food Tech Department and funded Zoolab's amazing 'Rainforest Road show', a fun and informative educational workshop featuring exotic animals delivered to the whole of Year 7.
So thank-you to all of you who turned up and supported this fun, family event.